Sale: 353 / Rare Books including Marine Art, May 18. 2009 in Hamburg

Lot 8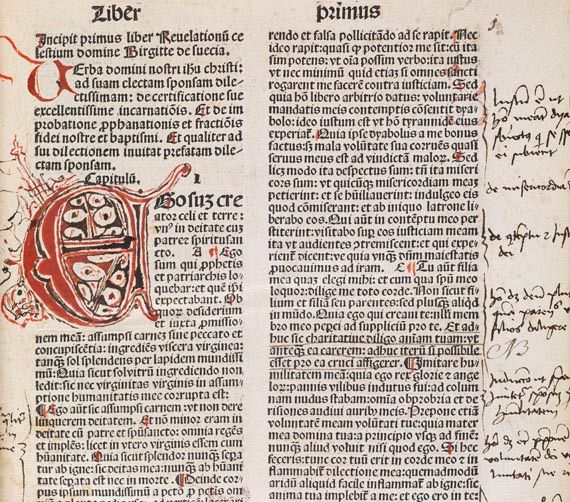 8
Revelationes. 1500
Estimate:
€ 12,000 / $ 13,200
Sold:

€ 18,000 / $ 19,800
(incl. 20% surcharge)
Birgitta von Schweden,
Revelationes. Mit
ganzseit. Titel-Holzschnitt, 2 ganzseit. Wappenholzschnitten und 15 blattgr. Textholzschnitten
, davon 10 aus mehreren Stöcken zusammengesetzt und mit Begleittext. Nürnberg, A. Koberger, 21. Sept. 1500. Roter Maroquin des 18. Jhs. mit reicher RVerg., goldgepr. Spitzenbordüren auf den Deckeln sowie GGoldschnitt mit Eckpunzierungen. Folio. 310 Bll. (st. 312, ohne die beiden weißen Bll.). Got. Type, 2 Sp., 57 bzw. 63 Zeilen. Durchgeh. rubriziert und mit eingemalten Lombarden in Rot.
GW 4392. - Hain/Cop. 3205. - Goff B-688. - BMC II, 445. - BSB B 531. - Polain 908. - Proctor 2124. - Schramm XVII, 10. - Bibl. Schäfer 60. - Dodgson I, 263, 12. - Meder 278, XII. - Zweite lateinische Ausgabe der erstmals 1492 erschienenen Offenbarung der Hl. Birgitta von Schweden,
Prachtwerk der Kobergerschen Offizin
, von Florian Waldauff im Auftrag von Kaiser Maximilian I. erstellt. Die schönen Holzschnitte mit Szenen aus dem Leben der Hl. Birgitta von Schweden und der Päpste. Etwas strittig ist die Zuschreibung der Holzschnitte, die zunächst von Passavant und später von Winkler Dürer zugeschrieben, jedoch in der neuesten Forschung unter Schoch und Mende ihm wieder aberkannt wurden. Dodgson erklärt bereits 1903 umfassend, warum er die Holzschnitte Dürer abspricht. Auch Meder schrieb 1931 nur einen der Holzschnitte (Wappen Maximilians) Dürer zu, für die Kreuzigungsszene vermutet er eine Autorschaft Lukas Cranachs. Es stehen des weiteren Vermutungen an, daß zumindest Entwürfe und Skizzen zu den Blättern von Albrecht Dürer selbst angefertigt worden sind (laut Kat. der Ausstellung
Meister um Albrecht Dürer
). In der heutigen Forschung überwiegt die Zuweisung der Arbeiten an einen mit Dürer nicht identischen "Birgittenmeister". "Doch bilden die Illustrationen des Birgittenbuches bis heute den Angelpunkt eines lang umstrittenen, unzureichend geklärten Komplexes von Zeichnungen und Holzschnitten, die weder Dürer selbst noch seinen Schülern zugeschrieben werden konnten. Sie müssen weiter mit einem Notnamen auskommen" (Schoch). - Ohne die beiden weißen Bll. H6 und g6 am Schluß. - Tlw. gering stockfl. und stellenw. etw. wasserrandig, Marginalien von zeitgenöss. Hand im Seitensteg tlw. etw. beschnitten, 1 Bl. mit kl. Randeinriß, flieg. Vorsatz tlw. gelöst. -
Insges. schönes, durchgehend rubriziertes Exemplar in einem dekorativen Maroquinband à la dentelle
. Aus der Slg. Frederick Henriks, Ritter von Vasa (gest. Exlibris, dat. 1893).
Second Latin edition, first printed in 1492. Splendid edition by Koberger, rubricated throughout and with painted lombards in red. With fullpage woodcut on title, 2 full page heraldic woodcuts and 15 fullpage woodcuts in the text, 10 of them from several wooden blocks with accompanying text. Red 18th century morocco, richly gilt à la dentelle and with gilt tooled edges. - Lacking blank leaves H6 and g6 at the end. - Partly minor foxing and some waterstaining, contemp. marginalia cropped close at fore edge, 1 leaf with small marginal tear, flying endpaper loosened. Fine and decorative copy from the library of Frederick Henriks, knight of Vasa (engr. bookplate from 1893).
8
Revelationes. 1500
Estimate:
€ 12,000 / $ 13,200
Sold:

€ 18,000 / $ 19,800
(incl. 20% surcharge)
You might also be interested in
Birgitta von Schweden - lots sold by Ketterer Kunst