Sale: 379 / Rare Books, May 23. 2011 in Hamburg

Lot 9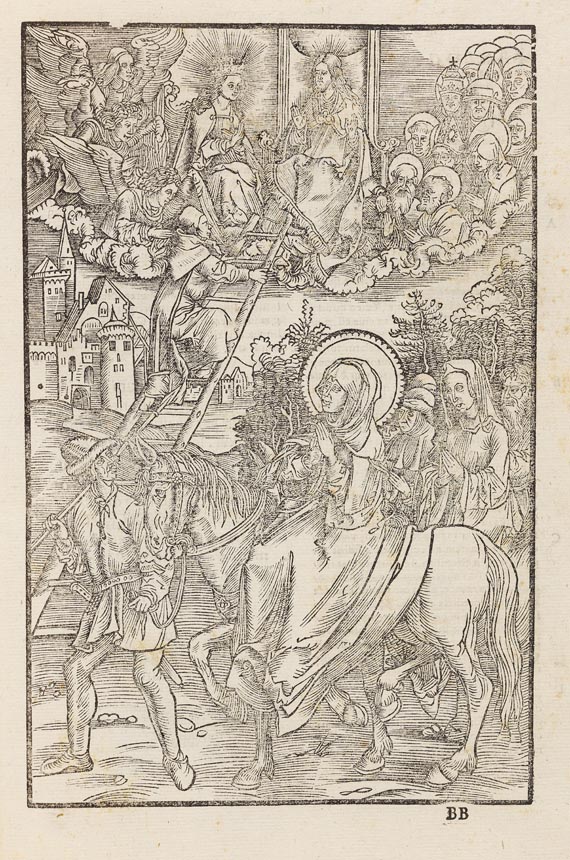 9
Memoriale. 1556
Estimate:
€ 3,000 / $ 3,300
Sold:

€ 2,400 / $ 2,640
(incl. 20% surcharge)
Hl. Birgitta von Schweden, (Revelationes). Haec est generatio querentium faciem domini .. Mit Titelholzschnitt und 59 (3 blattgr.) Textholzschnitten sowie zahlr. figürl. Holzschnitt-Initialen . Rom, In aedibus divae Brigittae viduae (Fr. de Ferrariis) 1557. 71 nn. Bll. Register, 144 S., 232 nn. Bll. - Vorgeb.: Dieselbe , Memoriale effigiatum librorum prophetiarum seu visionum B. Brigidae alias Birgittae viduae stirpis regiae de regno Suetiae. Mit Titelholzschnitt und 61 (3 blattgr.) Textholzschnitten . Rom, In aedibus Sanctae Brigidae (D. Viotti & A. M. Guidotto), 22. Aug. 1556. 14 nn. Bll. - Spät. Pgt. mit RSch. Folio.

Index Aurel. 119.616 & 615. - Edit 16, CNCE 6140 & 6139. - Adams B 2835. - BM STC, Italian Books S. 126. - Seltene Ausgabe der \b\i Revelationes , herausgegeben von Olaus Magnus. Enthält die Offenbarungen der Hl. Birgitta und eine kurze Lebensbeschreibung der Hl. Katharina, Tochter von Birgitta, ferner das häufig beigebundene Memoriale , eine Art Verlagsankündigung für die vorlieg. Ausgabe. Reich illustriert mit Holzschnitten, die sich eng an die Nürnberger Ausgaben Kobergers halten und teilweise nach Dürer kopiert sind. Sie zeigen überwiegend Szenen aus dem Leben der Hl. Birgitta, ferner auch eine Ansicht von Jerusalem, wohin Birgitta in ihren letzten Lebensjahren eine Wallfahrt unternahm. - Register (Lagen a-m/6) an den Anfang gebunden. Ohne das letzte w. Bl. (m6). - Tls. minim. stockfleckig und gering wasserrandig (erste Bll. deutlicher), vereinz. gebräunt, wenige hinterl. Läsuren. Exlibris. Insges. gutes Exemplar.

Rare edition of the 'Revelationes' by Olaus Magnus, bound together with a prospect for this work. Richly illustrated, together with 2 title woodcuts, 120 woodcuts in text (6 full-page) and numerous fig. woodcut initials. Later vellum with label on spine. - Partly minor foxing and slight waterstaining (first leaves stronger), here and there browned, few small backed damages. Else well-preserved copy.


9
Memoriale. 1556
Estimate:
€ 3,000 / $ 3,300
Sold:

€ 2,400 / $ 2,640
(incl. 20% surcharge)
You might also be interested in
Birgitta von Schweden - lots sold by Ketterer Kunst