Sale: 405 / Rare Books, May 27./28. 2013 in Hamburg

Lot 15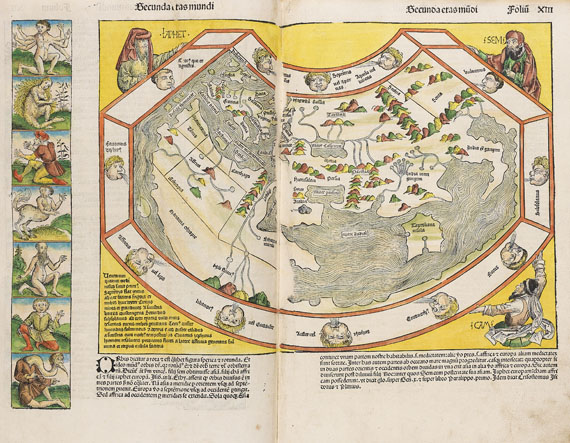 15
Liber chronicarum. 1493.
Estimate:
€ 100,000 / $ 106,000
Sold:

€ 114,000 / $ 120,840
(incl. 20% surcharge)
Schedel, H., Liber chronicarum. Mit 2 altkolor. doppelblattgr. Holzschnitt-Karten und über 1800 altkolor. Textholzschnitten (tlw. wdh.) von M. Wohlgemuth und W. Pleydenwurff sowie eingemalten Lombarden in Rot oder Blau . Nürnberg, A. Koberger für S. Schreyer und S. Kammermaister, 12. Juli 1493. Lederband d. 18. Jhs. mit RVerg. 45 : 30,5 cm. Got. Type, 1-2 Sp., 64 Zeilen. 326 Bll. (davon 1 Bl. weiß).

Erste Ausgabe, auf kräftigerem Papier und mit stärkeren Abdrucken der Holzschnitte als die ein halbes Jahr später erschienene deutsche Ausgabe. - Außergewöhnlich gut erhaltenes Exemplar mit kräftigem Altkolorit im typischen Koberger-Stil.
Die Schedelsche Weltchronik ist mit ihren 1809 Holzschnitten von 645 Stöcken das "größte Buchunternehmens der Zeit" (Rücker) und die am reichsten illustrierte Inkunabel überhaupt. Die künstlerisch hochrangigen Holzschnitte stammen von dem deutschen Maler und Holzschneider Wilhelm Pleydenwurff und dessen Schwiegervater Michael Wohlgemuth, in dessen Nürnberger Werkstatt auch Albrecht Dürer lernte. Der bis heute anhaltende Ruhm der Weltchronik beruht hauptsächlich auf dieser opulenten künstlerischen Ausstattung, bei der Wort und Bild sich einzigartig ergänzen und eine wohlbedachte, ausgewogene Einheit bilden. Unter den prachtvollen Abbildungen sind die zahlr. Städteansichten von besonderem Interesse, da sich hier, neben bloßen Phantasieansichten, die ersten authentischen Ansichten deutscher Städte finden. Zu sehen sind: Augsburg, Bamberg, Breslau, Köln, Konstanz, Lübeck, München, Nürnberg, Passau, Prag, Regensburg, Salzburg, Ulm, Wien und Würzburg. Kulturgeschichtlich bedeutend sind die Berichte und Darstellungen aus der zeitgenöss. Geschichte (Bauernunruhen, Judenverfolgung, die Seefahrten Martin Behaims und seine Entdeckung der Azoren etc.), ferner die geographischen Beiträge Hieronymus Münzers, von dem die doppelblattgr. Karte von Mitteleuropa stammt (nach dem verschollenen Original des Nikolaus von Cusa 1457). Für die ptolemäische Weltkarte diente diejenige aus der Cosmographie des Pomponius Mela (Venedig 1488) als Vorlage. Auf Bl. 264 der berühmte Totentanz-Holzschnitt, "eine der gewaltigsten Äusserungen deutscher Kunst" (Stadler S. 45).
Kollation: Titelbl., 19 nn. Bll. Register, num. Bll. 1-266, 6 nn. Bll. (d. l. w.), num. Bll. 267-299, 1 nn. Bl. - Zustand: Fußsteg leicht fingerfleckig, wenige hinterl. Einrisse oder ergänzte Randläsuren, ca. 20 Bll. mit kl. Wasserrand, Titel etw. fleckig und mit Randläsuren. Außengelenke brüchig, Kanten stellenw. beschabt und unauffällig restauriert. Insgesamt schönes und vollständiges Exemplar.

Hain/Cop. 14508. - Goff S. 307. - BMC II, 437. - BSB S-195. - Muther 424. - Fairfax Murray 394. - Schreiber 5203. - Schramm XVII, 6-7 und 9. - Rücker S. 143. - Harrisse 13. - Alden/Laing 493/21.

First edition, on firmer paper and with a stronger impression of the woodcuts than the German edition, which was published half a year later. Complete and well-preserved copy in contemp. Koberger coloring. With 2 double page woodcut maps and more than 1800 woodcuts in the text (some rep.) by M. Wohlgemuth and W. Pleydenwurff as well as painted lombards in red or blue. 18th cent. calf with gilt spine. 326 leaves (incl. 1 blank). - Lower margin slightly fingerstained, few backed tears or marginal defects, ca. 20 leaves with small waterstain, title with some soiling and fraying. Outer joints brittle, edges partly rubbed and unobtrusively restored. Fine copy.


15
Liber chronicarum. 1493.
Estimate:
€ 100,000 / $ 106,000
Sold:

€ 114,000 / $ 120,840
(incl. 20% surcharge)
You might also be interested in
Hartmann Schedel - lots sold by Ketterer Kunst