Anniversary Rare Books Auction in Hamburg
Bible Variations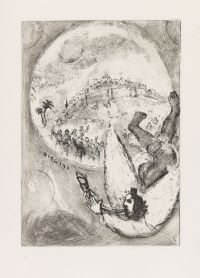 Marc Chagall
Bible 2 volumes, 1956
Estimate: € 35.000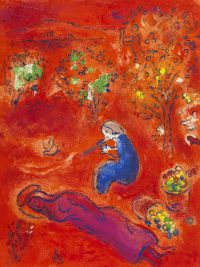 Marc Chagall
Daphnis & Chloé, Paris, Tériade 1961
Estimate: € 100.000

Hamburg, October 28, 2019 (kk) -

Mankind has been fascinated by the Word of God for millennia. Next to the Fust-Schöffer-Bible from Johann Gutenberg's printing press (estimate: € 1,000,000, see separate press release) an important bible edition by Marc Chagall will be called up in the

Rare Books Auction

in Hamburg on November 25 in context of the 65th anniversary of Ketterer Kunst.

IRRETRIEVABLE: Marc Chagall's acclaimed series of etchings with bible scenes is inimitable both in terms of completeness and its artistic significance. The artist himself saw it as his most important contri-bution to graphic art. The two-volume work was made over a period of 25 years and the printing plates were destroyed after it had been completed. It will enter the bidding race with an estimate of € 35,000.

COLORFUL: Another magnum opus among

Marc Chagall

's book illustrations is the famous lithographic cycle "Daphnis & Chloé". Apart from its choice motifs, it is particularly captivating for its strong and vivid colors. The artist used up to 26 hues per lithograph and celebrates a festival of colors that conveys the overwhelming impressions that Greece's light and nature left on him to the reader: The vegetation's lush green competes with infinite blue of sky and sea, while red, orange and yellow express the figures' pure love of life, taking the observer onto a magical dream journey. With an estimate price of € 100,000 fierce bidding can be anticipated.

BAROQUE SPLENDOR:

Johann Wilhelm Weinmann

's "Phytan-thoza iconographia", one of the most distinguished baroque works on plants and colors, might be obtained for the estimate price of € 60,000. This complete first edition offered here was released in five volumes between 1737 and 1745. It is based on the comprehensive collection of plant illustrations of the apothecary Weinmann from Regensburg. This work is not only fascinating for its content but also for its make, as it is the first botanical work using so-called English color printing.

DEVILLISHLY GOOD and legally impeccable is the very rare early print "Jesus und der Teufel vor Gericht" (Jesus and the Devil at Court) by

Jacobus de Theramo

, which has been estimated at € 28,000. The legal book after the Master of Belial is illustrated with 37 woodcuts and describes a fictitious dispute between Satan and God's son about the rule over mankind. The German translation puts focus on legal aspects and thus has the character of a textbook for the law of practice.

SAVORY:

Marx Rumpolt

's "New Kochbuch", the most acclaimed German Renaissance cookbook, will be called up with an estimate of € 16,000. The important historic standard work is illustrated with marvelous woodcuts by, among others, Jost Amman, Virgil Solis and Hans Weiditz.

INTERCONTINENTAL: The wonderful maps in

Jakob Ziegler

's "Quae intus continentur, Syria, Palestina, Arabia Petraea, Aegyptus, Schondia, Holmiae" from 1532 are milestones in the cartography of Palestine and Scandinavia. This well-preserved and rare first edition of the early geographical work with eight double-page woodcut maps contains the first authentic map of Scandinavia with the first printed reference to Finland. The estimate is at € 10,000.

EXTRAORDINARILY RARE:

Clemens Brentano

's "Fanferlieschen Schönefüßchen" with seven original etchings by

Max Beckmann

has also been estimated at € 10,000 and counts among the most important book illustrations of Expressionism. The fine copy in a de-luxe binding is an absolute rarity, as there is proof of only four copies from the original edition of 220 copies. On top of that this is the only copy in which the artist signed all seven etchings.

GORGEOUS: One of the first book illustrations by

Pablo Picasso

is

Max Jacob

's "Le Siège de Jérusalem" from 1914. Estimated at € 10,000 it is the last work in the author's famous Matorel trilogy with the three early Cubist original etchings in which the artist tells the story of the pauper Matorel who is surrounded by people from various epochs and nations, as well as by a flock of mystical-symbolical animal creatures waging an apocalyptic holy war to conquer elysian Jerusalem.

DOCUMENTAL: The original typescript of "Les Roses" is a remarkable document from the last months in the life of

Rainer Maria Rilke

. Along with an autographed poem and six letters to his publisher A. A. M. Stols it will be offered for € 10,000.
Preview
Mon-Fri November 18 - 22
Sunday, November 24 by appointment
Ketterer Kunst Holstenwall 5, 20355 Hamburg
Auction
November 25 Ketterer Kunst Holstenwall 5, 20355 Hamburg


The family company Ketterer Kunst (www.kettererkunst.com and www.ketterer-internet-auctions.com), with headquarters in Munich and branches in Hamburg, Duesseldorf, Berlin and the USA, was founded in 1954. It is one of the leading European houses for auctions of Fine Art from the 19th to the 21st Century and Rare Books. The latest art market review for Fine Art 2018, compiled by artprice.com, ranks Ketterer Kunst on place 11 in the global TOP 100. The auctioneer's clientele predominantly consists of international collectors, art dealers, curators and museums.

| Press Contact: | Rare Books Department: |
| --- | --- |
| Ketterer Kunst | Ketterer Kunst |
| Joseph-Wild-Str. 18 | Holstenwall 5 |
| 81829 Munich | 20355 Hamburg |
| Michaela Derra M.A. | Christoph Calaminus / Christian Höflich |
| phone: +49-(0)89-55244-152 | phone: +49-(0)40-374961-11 /-20 |
| fax: +49-(0)89-55244-177 | fax: +49-(0)40-374961-66 |
| email: m.derra@kettererkunst.de | email: infohamburg@kettererkunst.de |
Contact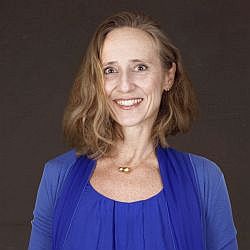 Michaela Derra, M.A.
Ketterer Kunst GmbH & Co. KG
z. Hd. Michaela Derra
Joseph-Wild-Str. 18
81829 Munich
Tel.: +49 89 55 244 152
m.derra@kettererkunst.de