Auction of Rare Books, Manuscripts, Autographs
Gaudy Freedom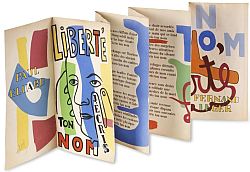 Paul Éluard and Fernand Léger
Liberté J'Ecris Ton Nom, color lithograph, 1953
Estimate: € 15.000
Hamburg, March 10, 2020 (kk) -

Fernand Léger's color lithograph for Paul Éluard's poem "Liberté j'écris ton nom" is a homage to freedom. The gaudy sheet in leporello-fold will be called up in the

Rare Books Auction

at Ketterer Kunst in Hamburg on May 25.

Under the German occupation of France in 1942

Paul Éluard

expressed his longing for freedom in this famous poem. Shortly after his death it would inspire his his friend

Fernand Léger

to a bright and colorful illustration that was eventually released in an edition of just 200 signed copies in 1953. The original print "Liberté J'Ecris Ton Nom" will enter the race with an estimate of € 15,000.

GLOBAL: The lavishly made six volume strong "Civitates orbis terrrarum und Urbium praecipuarum" by the theologian and publisher

Georg Braun

is a fascinating addition to the famous world atlas "Theatrum Orbis Terrarum" by the Dutchman Abraham Ortelius. Together with the engraver

Frans Hogenberg

, who had already made various maps for Abraham Ortelius, he created more than 600 true-to-life views and maps between 1572 and 1618. On around 1,600 pages he shows all the then larger and relevant cities in Europe, Africa, Asia and America. The estimate is at € 60,000.

CONTEMPLATIVE: With the Latin

Book of Hours

for the use of Troyes, made in France around 1480, a complete and richly illuminated Livre d'Heures from the Champagne will be called up. Its fine borders are adorned with fanciful grotesques and lovely birds. It is estimated at € 30,000.

ACCURATE:

Johann Conrad Susemihl

created one of the finest German works on birds. A complete and well-preserved copy of the first edition with true-to-life illustration in splendid colors on untrimmed copper plates will be offered for € 10,000.

EXPLORATIVE: The same price has been tagged to the travelogue "Puteshestvie Kapitana Billingsa" (The Voyage of Captain Billings through Chukchi Country), published in Russian in 1811, by the navigator and admiral

Gavril Andreewich Sarychev

. It is an account of captain Billings' voyage to the Northern Siberian Chukchi people in a very rare and complete copy of the first edition with the precious map of the Bering Strait.

The work is part of a comprehensive

private collection

of more than 100 books from the 16th-20th centuries about expeditions to the Polar region, among them works by Olaus

Magnus

, Adam J. von

Krusenstern

, William Edward

Parry

and John

Ross

.

POETIC and pictorial, too:

Hermann Hesse

's "Six poems with Original Watercolors" from 1932. With its bright and intensive watercolors it is a wonderful document of the artist's masterly versatility as poet and painter. The estimate price is at € 8,000.

CRITICAL: The second revised edition of the critique of political economy "Das Kapital" from

Karl Marx

will be called up in form of the rare dedication copy for "Mr. Coelho". In comparison with the first edition from 1867, this 1872 edition was thoroughly revised and increased by Marx. The important copy was presumably dedicated to the Portuguese philologist and reformer Francisco Adolfo Coelho (1847-1919) who was part of a group of young Portuguese intellectuals enthusiastic about the revolutionary tendencies prevalent in those days and who sought to enrich Portuguese science and cult with those ideas. However, a little capital will be necessary to acquire this fascinating copy which has a moderate estimate price of € 5,000.

The range of offers is completed by a

Luther Bible

in old coloring from 1574 (estimate: € 20,000), as well as by the first edition of

Johann Wolfgang von Goethe

's play "Götz von Berlichingen" from 1773, and a decorative and complete copy of

Friedrich Bertuch

's famous children's' encyclopedia in twelve volumes published in 1798-1830 with the title "Bilderbuch für Kinder" (each estimated at € 8,000).
Preview
Mon-Wed May 18 - 20
Fri May 22 Sun, May 24 by appointment only
Ketterer Kunst Holstenwall 5, 20355 Hamburg
Auction
May 25 Ketterer Kunst Holstenwall 5, 20355 Hamburg


The family company Ketterer Kunst (www.kettererkunst.com and www.ketterer-internet-auctions.com) with headquarters in Munich and branches in Hamburg, Duesseldorf, Berlin as well as with a global network of representatives in , among thers, the USA and Brazil, was founded in 1954. It is one of the leading European houses for auctions of Fine Art from the 19h to the 21st Century and Rare Books. According to the latest figures issued by artnet Price Database for 2019, Ketterer Kunst holds place 11 in the ranking for Art after 1900, for Art of the 20th Century it is the strongest-selling family business world-wide.

| Press Contact: | Rare Books Department: |
| --- | --- |
| Ketterer Kunst | Ketterer Kunst |
| Joseph-Wild-Str. 18 | Holstenwall 5 |
| 81829 Munich | 20355 Hamburg |
| Michaela Derra M.A. | Christoph Calaminus / Christian Höflich |
| phone: +49-(0)89-55244-152 | phone: +49-(0)40-374961-11 /-20 |
| fax: +49-(0)89-55244-177 | fax: +49-(0)40-374961-66 |
| email: m.derra@kettererkunst.de | email: infohamburg@kettererkunst.de |
Contact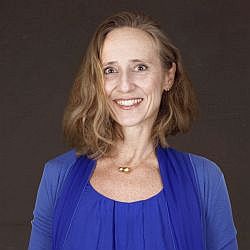 Michaela Derra, M.A.
Ketterer Kunst GmbH & Co. KG
z. Hd. Michaela Derra
Joseph-Wild-Str. 18
81829 Munich
Tel.: +49 89 55 244 152
m.derra@kettererkunst.de